Bronze Medal for Sachin at Asian Techno Championship at Oman!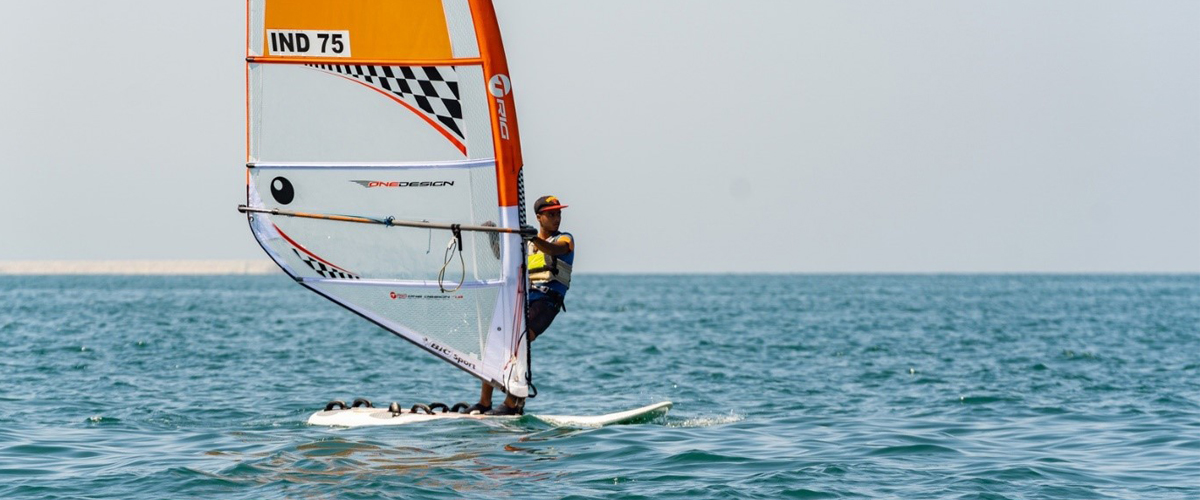 Our young sailor Sachin Ganesh participated in Asian Championship in Techno Windsurfing Class held at Mussanah, Oman from 10th Oct to 16th Oct 2021.
In his own words….
"A storm and high winds forecast was published in the newspaper and hence I decided to use a smaller sail for the Championship. But unfortunately on the championship days the winds were low and wished I had sailed with my 8.5 sails and could have done much better"
Yes, history has been scripted. It's the maximum number of sailors qualified and also in number of events," Yachting Association of India joint secretary general Capt Jitendra Dixit told PTI. As India gears up for a historic sailing event in Tokyo, please find the details of each of the categories they will compete in.
He was the only participant from overseas other than the local Omani windsurfers. This young lad travelled alone to Oman and the hosts were kind as to support him with transportation and transit board charter. Sachin spent all the six days staying with the Omani sailors and had a great time. Every day after the races he played with the Omani sailors and they made him feel at home.
Day 1 was all fun ..… no sailing. Only beach cleaning and swimming. There were some 40 parents &volunteers who enthusiastically picked up garbage and cleaned the beach.
The biggest joy was him winning the Bronze! That too for the very first international event for which he has travelled alone!
Congratulations Sachin, TNSA is proud of you and wish you many more such accolades!